Custom Chandelier Shade Builder
Get your own design Custom Chandelier Shade. Let us build handmade Custom Chandelier Shade with your favorite design color and size for your home, office or personal space.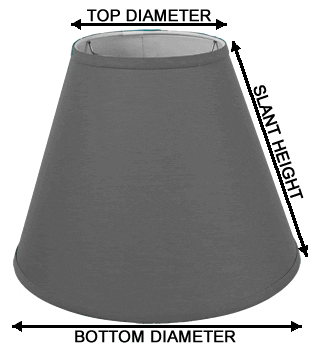 Please browse through our in-stock fabrics by clicking on the link below. Be aware that every monitor and printer displays the same color differently. It is always prudent to verify your fabric color and selection by ordering a swatch.
COMMON FITTER COLORS AVAILABLE:
Use the Special Instructions to designate the color that you are looking for or if you would like an enamel color that you don't see here:
MEASURING YOUR FITTER TYPES:
In general, your fitter drop is the distance from the "top of the lampshade" to the ring (fitter) that attaches to your lamp base. In some instances, the fitter might "rise from the bottom". For these cases, please note in the 'Special Instructions' that your "DROP" inches are actually "RISE" inches and that the spider is on the bottom.
COMMON FITTER TYPES AVAILABLE:
If you don't see your fitter listed below, please give us a call. We have our own welding department and can make just about anything! If your fitter selection is CHIMNEY RING, please note in the 'Special Instructions' what your ring dimensions are. If your fitter selection is REFLECTOR NOTCHES, please note in the 'Special Instructions' what the dimension of the outside of your glass bowl is. In either of these special cases, it would be very helpful to send us a photo graph of your Chimney or Bowl with a tape measure stretched across the top.
There are 3 basic trim options and then variations in Custom Chandelier Shade which are: (1) Traditional 1/2″ trim, (2) Modern Rolled Edge trim, (3) Rustic Whipstitch trim. Please NOTE: We no longer make matching trim for Customers Own Material. The primary option is 'Rolled Edges', but we can also attempt to find the closest matching (or contrasting) trim from our stock trim options. Also, we can accept Customer Supplied Trim as long as it is cut-on-the-bias and not an inflexible ribbon type of trim.
Diffusers are the pieces of acrylic or polystyrene that sit in the top or bottom of the lampshade and (literally) diffuse the light bulb's direct light. Diffusers often are placed in the bottom of pendant lampshades when the lampshade sits above eye level, but can go in just about any lampshade. Acrylic diffusers are (by far) the most common type and are a milky white. Polystyrene diffusers are the same material used in the lampshade sides and are normally made in matching or contrasting material to the lampshade. Typically, if a white diffuser is desired, acrylic is used. If choosing a polystyrene diffuser, please put a note into the 'Special Instructions' area for your desired color (white, matching, or contrasting). Diffusers are optional and are not typical.
We pay close attention to 'Special Instructions'. Please use the 'Special Instructions' area to give us any additional specifications or instructions regarding your Custom Chandelier Shade. You can also use this area for any questions or comments that you might have.
Production Lead Time represents the number of business days it takes us to manufacture your Custom Chandelier Shade. Orders placed after 2 pm Central will be processed the next business day. If any requested Custom Chandelier Shade specifications affect the production lead time noted, you will be contacted for options. Production Lead time begins when all customer-supplied materials (if any) arrive at the factory location. PLEASE NOTE: It will take additional time to ship your empire Custom Chandelier Shade from our location to you. Our Custom Chandelier Shades all ship via FedEX Ground Shipping – if you need faster shipping, please contact us or put your instructions into the "Special Instructions" area to the left. If you have a shipping account or a specific carrier you would like us to use, please let us know.
Because our Custom Chandelier Shade is made to order, they cannot be returned. Please read Returns & Exchanges, Privacy policy, and terms and conditions carefully. If you have an issue with your Custom Chandelier Shade, feel free to contact us by phone or email and we will work swiftly to get your issue resolved within our power to do so. All shipping times are an estimate and do not constitute a guarantee for the delivery date of your order. If there is a delay in your order you can also feel welcome to contact us with any questions. Royal Lampshades is not financially responsible for refunding your order if it is considered to be "buyer's remorse." If there is a defect in your order you may request a new one to be made or receive a refund on your order within 24 hours of you receiving your designed Custom Chandelier Shade. If we are out of materials or have questions we will contact you as soon as possible. Please note that anything of this nature may cause a further delay in your order and you will be informed if such a delay might occur.