Looking to get a little more life out of that old antique lamp or simply desire a simple and inexpensive update? Give your light fixture that extra added bit of flair it needs for a very minimal cost with one of Royal Designs' Brass Finials.
Lamp finials can vastly improve the look of a lighting fixture. Table lamps and floor lamps alike can benefit from this unique design choice. Our lamp finials are made of quality solid brass in either traditional polished brass or a more modern antique brass. As a result, our lamp finials look expensive without breaking the bank.
All of our finials feature a protective lacquered coating that protects against discoloring and tarnishing. In addition, all of our finials feature a universal 1/4 -27F hole fitting designed to fit on most lamp harps.
New Finials Enhance the Look of Your Lamp
Remodeling an existing lamp is not only quick and easy, but it's a very affordable way to update your space. A lamp isn't complete without a finial and they can make or break a beautiful lamp. Scale, proportion, and composition are all elements to be considered.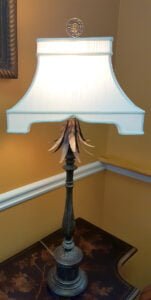 The Royal Designs Good Fortune Oriental Motif Lamp Finial in Antique Brass, when combined with a beautiful shade, transforms this basic casual table lamp into an elegant focal piece.
Utilizing a classic bell shape lampshade paired with Royal Designs Rope Ring Finial in Antique Brass led to instant room renovation!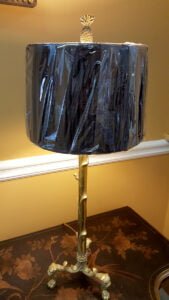 A Hospitality Pineapple Lamp Finial makes a welcomed addition to any lamp style!
It's easy to freshen up your decor with simple accents like lamp finials. They add a sense of history and personality to a lamp without having to replace the entire fixture. Shop our catalog of finials by clicking here, and find the piece your lamp is missing today!